<!== Packaging Machinery ==> <!== Packaging Machinery ==>
Counting Machine MiniCount
The MiniCount is universal counting machine for all kinds and form of tablets, capsules, dragees etc. without changing parts.
The construction is based on the stringent requirement of the pharmaceutical industries and is easy to clean, because all contact parts can be removed tool-free.
The MiniCount Counting Machine is controled by new Control Processor designed for this application. The operator can execute applications via a touch screen control panel.
The basic unit is made of stainless steel and has:-
- an integrated control processor,
- a supply hopper, a twin count head,
- a 2 track vibratory feeder,
- a discharge coen and,
- a transport dust cover.
Output:
- up to 1500 tablets per minute,
- the twin version up to 3000 tablets per minute
Optional equipment:
- Adjustable container platform
- Automatic container transportation system
- In order to enhance quality control procedures,
automatic report generations, and communication
with optional supervisory computer system ( SCADA ),
are available.
Technical Data:
| | |
| --- | --- |
| Product:- | Tablets, Dragees, Hard Capsules, Soft Capsules |
| Supply:- | 230 VAC, 0,5 kW |
| Control System:- | High Speed MicroController |
| Operator Interface:- | Touch Screen Panel |
| Length:- | 800 mm |
| Width:- | 280 mm |
| Height:- | 700 mm |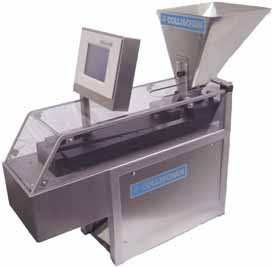 Counting Machine for Tablets, Capsules, Dragees