<!== Packaging Machinery ==> <!== Packaging Machinery ==>
Counting Machine + CheckWeigher TC 8210
Tara - Gross Application
Every single container is weighed before and after filling. A star wheel transports the container over two load cells to check the tare and gross weight. Invalid containers are rejected.
Some of the features of the integrated Counting Machine are:-
- Multi processor control
- Memory to store 1000 application programs
- Operator interface via color touch screen display
- High performance weighing cells
- Eeasy and quickly changeable parts
- Eeasy and quick integration in existing production lines

Output; up to 80 pc. / min.
Options:-
- automatic container delivery
-Twin version
- reject with confirmation sensor
- Complete production lines with unscrambling table,
bottle unscrambler, bottle air cleaner, capping machine,
labeling applicators, etc.
- In order to enhance quality control procedures,
automatic report generations, and communication
with optional supervisory computer system ( SCADA ),
are available.
Technical Data:
| | |
| --- | --- |
| Product:- | Tablets, Dragees, Hard Capsules, Soft Capsules , powders, granulates |
| Power Supply:- | 230 VAC, 0,5 kW |
| Compressed Air:- | 6 bar |
| Control System:- | High Speed MicroController |
| Operator Interface:- | Touch Screen Panel |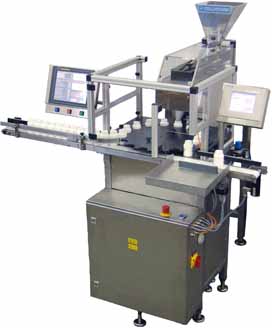 Counting Machine with integrated double CheckWeigher for filling Tablets, Capsules, Dragees, powders, granulates